Danica Is the name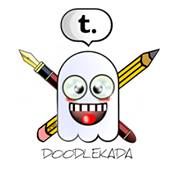 Ako?
Pwedeng kausap.
Pwedeng kakulitan.
Pwedeng maging kaibigan! :D
Credits
Theme made by Dakilanggerlpren
top buttonBack to by Dakilanggerlpren
Codes & Tutorials from Google
Powered by Tumblr

Favorite Quotation




Books are the ultimate Dumpees: put them down and they'll wait for you forever; pay attention to them and they always love you back.





I Say:


There is no reason to give up, until there is HOPE. Many People do not understand that being a human is such a great responsibility, like hello. You need to act like you are. But we all know that we are JUST HUMANS. We are not perfect, we can make mistakes anytime anywhere in our lives. But never be ashamed of that. Because it teaches you lessons. Lessons that you can bring in your entire living. Maybe it's hard, but I think if we kept on practicing it and make it a hobby maybe we can do it. I pledge to say, I am just someone who never intended to hurt anybody. I just Express. What you read and what you see in my blog, stays on my blog. Welcome to my WORLD. Where I escape from REALITY.



Navigations

GIF











Music Player
Featured Blogger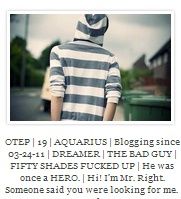 Disclaimer
All images and notes found in my blog are all mine except for those I reblog. Similarities and copying of any content in my blog without any permission is strictly prohibited. If you will use any of the content in this blog, you must give me some credits or use my blog as the source. Thank you for understanding. Good day.